Develop the Optimal Baseball Swing
Maximize player performance with data trusted by college coaches and MLB scouts
Design your optimal baseball swing with Rapsodo HITTING 2.0. Get instant and accurate data feedback so you can get better faster.
Turn your batting cage into a professional field with 3D ball flight and landing location – know more than just that you hit the back of the cage.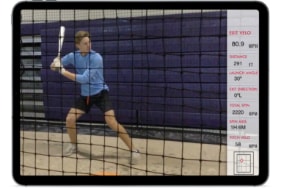 Analyze swing mechanics with instant video playback. Replay each hit alongside HITTING 2.0 data and make any necessary adjustments rep after rep.
Take it to the field or leave it in the cage. HITTING 2.0's lightweight, durable design makes it easy to use anywhere you train.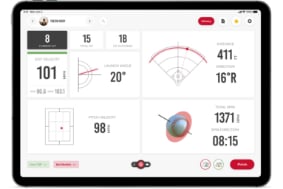 Designed with coaches and players in mind, Diamond App gives you every data point and report you need at your fingertips.
Whether you're hitting off a tee, soft toss or live batting practice, HITTING 2.0 measures every swing and gives you the data to help you improve.
Advanced baseball swing analysis
Design your optimal baseball swing with video playback and instant data from Rapsodo's HITTING 2.0. Our baseball swing tracker helps you make data-driven adjustments so you can increase exit velocity, improve batted ball metrics and optimize your swing.
Hitting technology for every level
Our baseball hitting tool lets you know more than just that you hit the back of the cage. Get insight on how each batted ball would perform in a game with metrics like exit velocity, launch angle, distance, spin rate and more. Transform your batting practices into data-driven, interactive hitting sessions.
Turn your batting cage into an interactive hitting competition with Game Mode. Paired with HITTING 2.0 and Rapsodo pro-level data, Game Mode allows players to compete against each other in friendly competitions like target practice and home run derby. 
The speed of the baseball as it comes off the bat immediately after contact.
Angle your ball leaves your bat relative to the ground.
The direction, plotted on a baseball diamond, that an in-play ball takes in flight.
The rate at which the ball spins during flight after contact, measured in rotations per minute (RPM).
The tilt or angle of the baseball from the contact point, measured in degrees, created by Magnus Force. The Magnus Force is created by the air pressure surrounding the spinning baseball on its path from the bat.
Develop your optimal baseball swing with HITTING 2.0.
Connect with the #RapsodoSquad
Tell us about yourself and we will connect you to a Rapsodo expert who can answer any questions you have.